Traditional rice crispy treats. This recipe uses: Kellogg's® Rice Krispies® cereal. Sweet, fruity and chewy bars with a Rice Krispies® cereal streusel topping. Enjoy the absolute BEST Rice Krispie Treats recipe you will ever taste.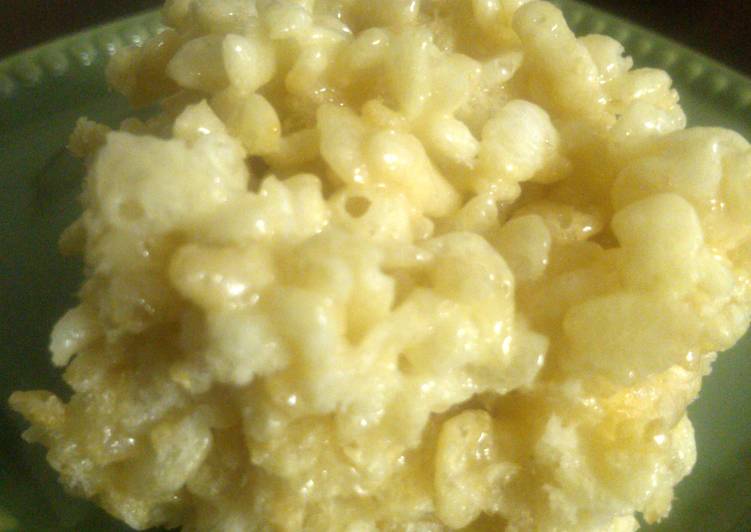 You can make traditional Rice Krispies treats using original Rice Krispies cereal, or you can make a chocolate version if. Rice Krispies Treats (also called Rice Krispie Treats, RKTs, Rice Krispies Squares in Canada, bars, buns or cakes, Marshmallow Treats, or Marshmallow Squares in Canada) are a confection commonly made through binding Kellogg's Rice Krispies or another crisp rice cereal together with butter or. Everyone needs an outstanding rice crispy treat recipe in their repertoire, and this is ours! You can have Traditional rice crispy treats using 3 ingredients and 3 steps. Here is how you achieve that.
Ingredients of Traditional rice crispy treats
It's 1/4 cup of butter.
Prepare 1 bag of of marshmallows.
You need 6 cup of rice crispy cereal.
These homemade rice crispy treats are such an easy treat to whip up for last minute dinner guests or for an afternoon playdate! I've tested many rice crispy treat recipes in my lifetime, and this is the best. These healthy rice crispy treats are easy to make with just a handful of wholesome ingredients and make the perfect sweet treat to stash in the freezer for a quick snack or dessert. Traditional rice crispy squares are made with butter and marshmallows.
Traditional rice crispy treats instructions
Melt butter and marshmallows in a microwave safe bowl in the microwave for about two to three minutes.
Add rice crispy cereal and mix thoroughly.
Empty bowl contents into a glad casserole dish sprayed with non stick spray.
These Healthy Rice Crispy Treats are a healthier alternative to the popular crisp rice cereal treat! The Best and Most Perfect Rice Krispie Treats recipe ever! Loaded with exact right amount of marshmallows for bakery style crispy treats! It's the best rice krispie treats recipe, because it's the perfect amount of marshmallow! Totally simple, gooey and buttery no bake recipe perfection!