Mango Cheesecake.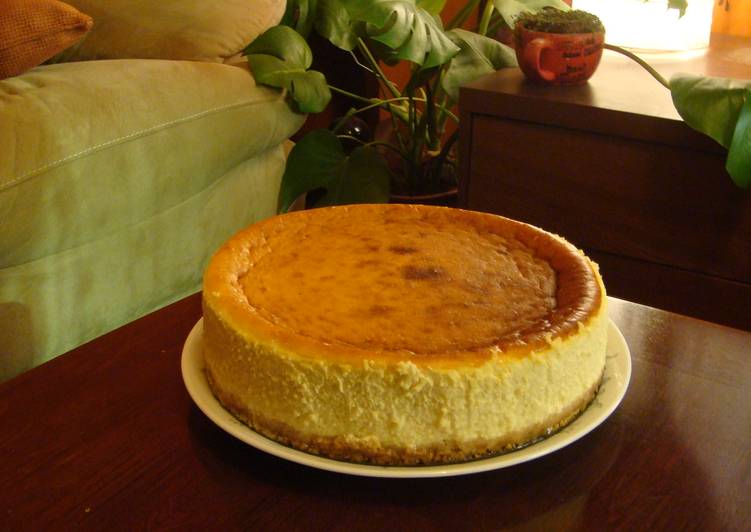 You can have Mango Cheesecake using 9 ingredients and 17 steps. Here is how you achieve it.
Ingredients of Mango Cheesecake
It's 140 Grams of Graham cracker digestive biscuit crumbs / crumbs.
Prepare 1/2 of butter Stick , unsalted , softened.
You need 8 oz packs of cream cheese of 3.
You need 2 Cups of Mango , pureed.
It's 1 Cup of Castor sugar.
Prepare 6 of Eggs.
You need 2/3 Cup of Sour cream.
It's 1/4 Teaspoon of Vanilla extract.
It's 1/2 Tablespoon of Custard powder.
Mango Cheesecake step by step
Preheat the oven to 180 degrees C..
Combine the graham cracker crumbs (you can also use digestive biscuits) with the butter until the mixture looks like damp sand..
Pat the crumbs into the base of a springform pan, and place in the freezer to set..
In the bowl of an electric mixer, beat the cream cheese till smooth..
Add the mango puree, and beat well till incorporated..
Add the sugar (you may increase or decrease the amount of sugar you use depending upon the sweetness of the mangoes) and beat well till combined..
Add the eggs one at a time, beating well after each addition..
Add the sour cream, vanilla extract and custard powder and beat till fully incorporated..
Take the springform pan out of the freezer and wrap it in a layer of clingwrap, then an layer of aluminium foil..
Pour the batter into the pan..
Place the pan in a roasting tray, and place the roasting tray in the oven. Pour water from a recently boiled kettle in the roasting tray, till halfway up the sides of the pan..
Bake for 45 minutes to 1 hour, till the cake is just set but the center is still a bit wobbly..
Remove the cake from the oven, take it out of the water bath and place it on a counter-top..
Unwrap the aluminium foil and clingwrap, and let the cake cool to room temperature..
Once cooled, place the cake in the refrigerator to set for at least 4 hours (you could do this overnight too)..
When set and chilled, unspring the cake from the pan and serve..
Optional: you could make a 'mango mirror' to top the cake. Dissolve 1 level tsp of powdered gelatin in 1 tablespoon of hot water, and add it to 1 cup of thick mango juice (with pulp). Pour over the cooled cake, and place it in the fridge to set the 'mirror'..