3 Ingredients Cheese Cake.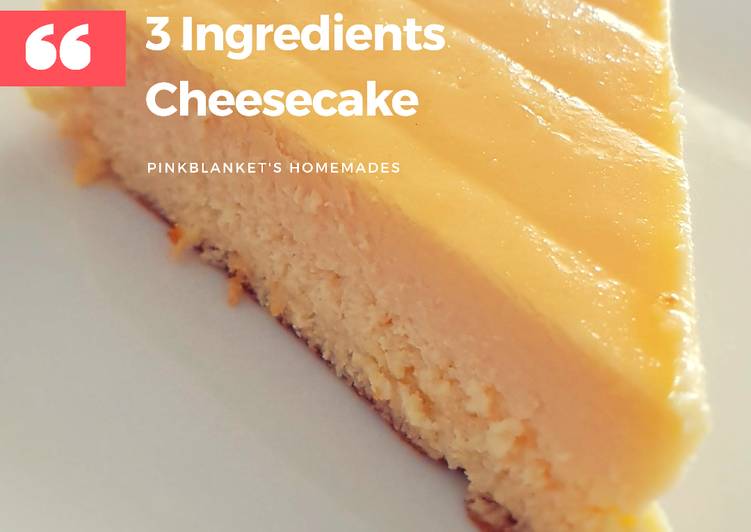 You can cook 3 Ingredients Cheese Cake using 8 ingredients and 7 steps. Here is how you achieve it.
Ingredients of 3 Ingredients Cheese Cake
Prepare 250 g of cream cheese.
It's 250 g of condensed milk.
Prepare 6 of eggs (separate the yolk & whites).
It's of Note:.
Prepare 1 of . Use 240 g of condensed milk for a less sweet cheese cake.
You need 2 of . Preheat oven to 150°C (water- bath-ready).
It's 3 of . Line 7" baking pan with baking paper.
Prepare 4 of . Bigger baking pan will result in flatter cheese cake.
3 Ingredients Cheese Cake step by step
Separate the yolks from the whites. Using fork, Lightly beat the yolks..
In a separate bowl, beat egg whites until stiff peaks form. Set aside..
Next cream condensed milk and cream cheese until smooth. Add egg yolk and mix until well combined..
Lastly, gently fold in the egg whites (meringue) into the cake batter in 3 additions. Keep folding until batter is just combined..
Pour the batter into cake pan. Wrap the sides of cake pan with alumium foil before placing it onto baking tray or roasting pan that is filled with enough water. Make sure water in the roasting pan is halfway up sides of cake pan..
Bake at 160°C for 30mins & 150°C for the last 20mins. Cake is set when skewer inserted comes out clean. Turn off the oven. Leave the cake in the oven for at least 15mins with oven door slightly ajar. Then transfer to a wire rack to cool completely. Best eaten chilled. Refrigerate for at least 4hours or up to overnight..
This cake is very basic yet delicious. Top with anything fancy i.e mousse, jam, chocolate, fruits, jelly etc etc. We love it as it is..