Simple Cheesecake.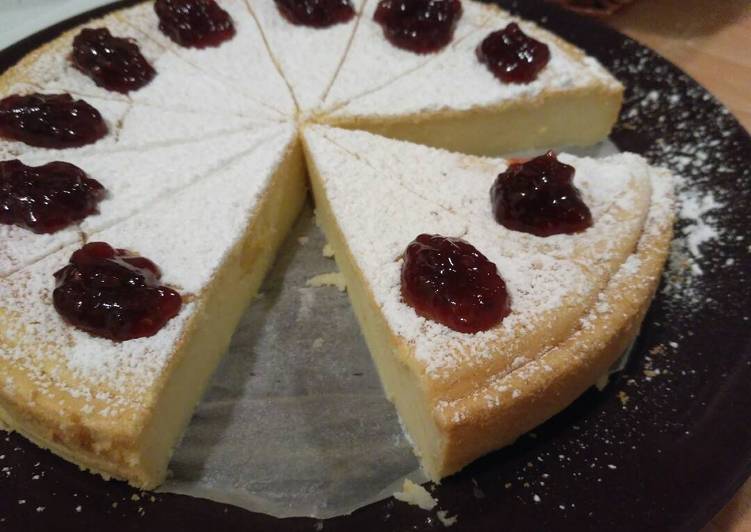 You can cook Simple Cheesecake using 10 ingredients and 14 steps. Here is how you cook that.
Ingredients of Simple Cheesecake
Prepare 200 g of cream cheese.
Prepare 40 g of butter.
Prepare 60 ml of milk.
Prepare 120 g of sugar.
Prepare 4 of egg yolks.
You need 4 of egg whites.
You need 40 ml of lemon juice.
You need of Zest from 1 lemon.
It's 80 g of flour.
Prepare 30 g of corn starch.
Simple Cheesecake step by step
Preheated the oven to 200 degree celcius and make sure all the ingredients are at room temperature..
Whisk the cream cheese for about 4 minutes until it softened.
Add egg yolk one by one, then add melted butter and milk..
Add flour and corn starch. Then add half of the sugar to the batter..
Add the lemon juice and zest. Mix it until well combined. Don't over mixed it. Set aside..
In the other bowl, whisk the egg whites and the other half of sugar until it stiff..
Pour half of the egg white batter to the main batter. Fold it until it well combined..
Pour the remaining egg whites and fold it again until well combined..
Pour the batter into a round baking pan with bake paper at the bottom it..
Put a bowl of hot water inside the oven and bake the batter in 200 deg for 15 minutes..
Reduce the heat to 140 deg and bake it for another 30 minutes..
Turn off the heat, and wait 30 minutes before you open the oven..
Take out the water bowl and keep the cake inside the oven to cool and let the oven door open a little..
Shift powder sugar above the cake. Enjoy!.