Simple☆Blueberry Cheesecake.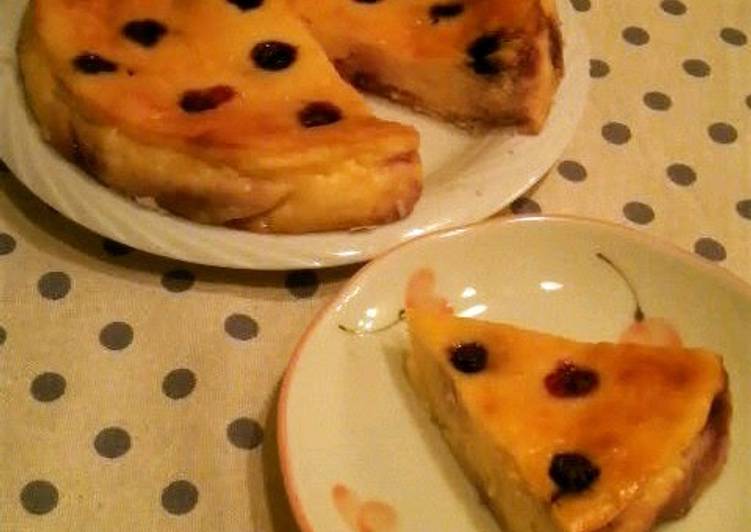 You can have Simple☆Blueberry Cheesecake using 7 ingredients and 9 steps. Here is how you achieve it.
Ingredients of Simple☆Blueberry Cheesecake
Prepare 200 grams of Cream cheese.
It's 150 grams of Plain yogurt (unsweetened).
You need 2 of Eggs.
You need 80 grams of Sugar.
You need 1 tbsp of Lemon juice.
Prepare 3 tbsp of Cake flour.
You need 70 grams of Blueberries.
Simple☆Blueberry Cheesecake step by step
Prepare all the ingredients. Wash the blueberries and drain. Cover a round cake tin with parchment paper..
Microwave the cream cheese for 30 seconds at 500 W to soften..
Add the cheese and sugar into a bowl. Mix and knead well with a whisk..
Add the beaten eggs and mix in. Then add the yogurt and lemon juice..
Add the sieved flour and stir..
Leave some of the blueberries for topping (I left 21 blueberries), and add the rest of them into the bowl to mix, but do not mash..
Pour the batter into the tin. Scatter the blueberries on top..
Bake for 50-60 minutes in a preheated oven at 170°C. If it is about to burn while cooking, cover with aluminum foil..
Test with a skewer , if it comes out clean then it's done. When cooled, let it cool in a fridge. It's more tasty to let it rest overnight..