Very Easy Basic Baked Cheesecake.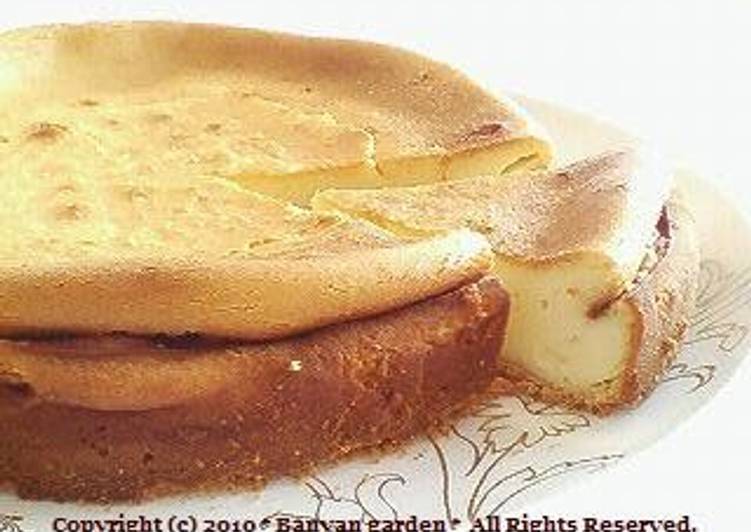 You can have Very Easy Basic Baked Cheesecake using 6 ingredients and 10 steps. Here is how you cook that.
Ingredients of Very Easy Basic Baked Cheesecake
You need 250 grams of Cream cheese.
You need 200 ml of Heavy cream.
Prepare 3 tbsp of Cake flour.
Prepare 2 of Eggs.
You need 70 grams of Sugar.
Prepare 1 of Unsalted butter (for the cake mold).
Very Easy Basic Baked Cheesecake step by step
Preheat the oven to 170°C. Spread butter in the cake mold (I used a springform pan)..
Put all of the ingredients, except for the cheese, into a blender and mix. Then add the cream cheese, cut into small pieces, little by little..
After it's mixed, pour the batter into the mold. Drop the tin lightly to pop air pockets in the batter..
Bake for 40-50 minutes at 170°C. Adjust the time depending on your oven..
When the cake is done, keep it in the mold and let it cool on a cooling rack (the puffed cake will shrink gradually). When cooled, rest it in the fridge..
After baking it's fluffy, and after cooling in the fridge, it's soft and rich..
Note: You can line crunched cookies mixed with butter on the bottom. Make the bottom however you like..
Note: If using 200 g of cream cheese: 150 ml of heavy cream, 60 g of sugar, 2 eggs, 2 tablespoons of flour..
Variation Pumpkin:. https://cookpad.com/us/recipes/168693-pumpkin-cheesecake.
Variation Banana:..