The year 2020 opened with some unpleasant events. Starting from the onset of the 3rd world war, the death of basketball legend, Kobe Bryant; to the COVID-19 virus that has infected thousands of people around the world.

In the midst of this pandemic, the government encourages all people to work from home. Appeal for Work From Home is intended to reduce and stop the spread of Corona virus that can spread through physical contact with sufferers.

Well, this policy makes video conferencing applications become increasingly popular, gang. Among these is Zoom, which has a variety of cool features that make it easy for you to make meetings online.

How to Change Virtual Background Zoom
Actually there are so many other video conferencing applications that are more popular. There is Skype that has appeared first in Indonesia, Google Hangout for free, and others.

Zoom has the advantage of being able to accommodate video conference participants for up to 100 people. This feature is very practical to use office workers, students, to students to do face-to-face online.

In addition to the large number of participants, Zoom also allows you to change the virtual background to support the presentation and not distracted with objects or other people passing behind us.

However, it is not uncommon for virtual backgrounds to be used just to be funny by displaying funny memes or hilarious videos to entertain the other person. Then how do you change the virtual background in Zoom? Let's look together, gang!
Step 1 – Download and Install Zoom

    Although Zoom is available for Windows and Mobile platforms, unfortunately the virtual background switching feature can only be done in the Windows version only, gang. Therefore, Jaka recommends that you use a PC or Laptop.

    Before you download Zoom, make sure your PC and laptop use a webcam, yeah. Without a webcam, you will not be able to access the video in Zoom, what else will change the virtual background.

    After your laptop / PC and webcam are ready, now is the time for you to download Zoom for the Windows version. You can download it directly on the website or via the link Jaka provides below:

    After you download Zoom on a PC / laptop, install the application as usual.


Step 2 – Create a Zoom Account

    If you have never used Zoom, then you must create an account first, gang.

    You also have the option to directly use Zoom by logging in through Google and Facebook accounts, or using SSO (Single Sign-On).




    Please note that the Zoom account you have is a free version so you can only make Zoom online meetings with a maximum duration of 40 minutes. You can buy a full Zoom license if you want to eliminate the maximum duration.

    Make your profile as attractive as possible. The trick is to click on the Profile icon in the right corner of the screen, then on the menu that appears select My Profile. You can change your username or profile photo, gang.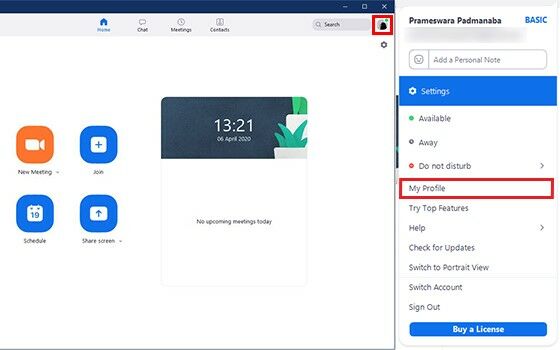 Step 3 – Change the Virtual Background

    Now is the time for Jaka to tell you how to change the virtual background video conference on Zoom. The method is quite easy, really. You can use photos or videos of your own choice or those provided by Zoom by default.

    Easy to do. First, click on the profile icon located in the upper right corner of the Zoom application, then select Settings from the menu that appears.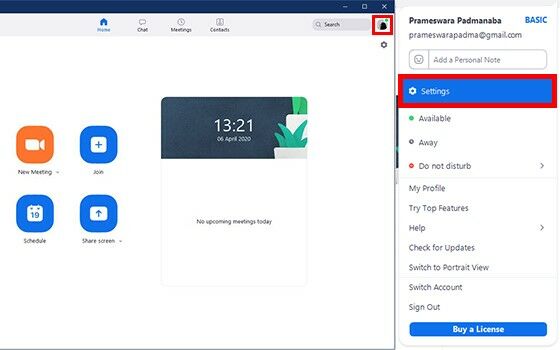 After that, you will see a new window that displays all the Settings options. To change your Zoom background, select the Virtual Background option.




    Now, on that menu, you can choose the virtual background that you want. If you want to use your own picture or video, click on the "+" icon located next to Choose Virtual Background.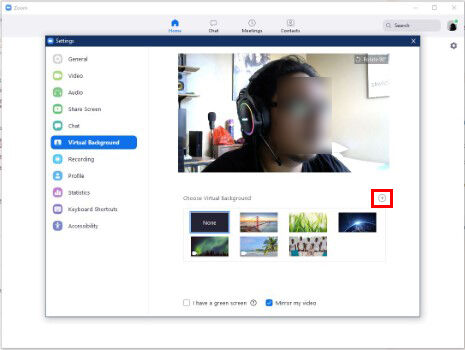 This feature will work well if you have a green screen. If you have a green screen or similar object, you can check the option I have a green screen. If you don't have one, it's fine, gang.

    Zoom will open File Explorer to help you find the file you want more easily. Make sure the video or image you want has been downloaded on your laptop / PC, yeah.

Step 4 – Finish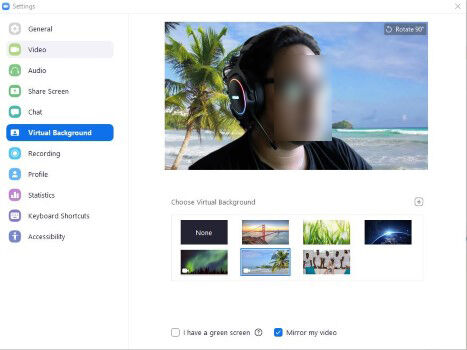 Voila! Now your virtual Zoom background has changed the way you want it to.